So, Bentley was bugging me to hitch up 'Lil Red and head out for another adventure. Where? Well, it seems that while he enjoyed staying at Clear Lake State Park last time, he thought it was time to 'RUFF IT".
Well, we did invest in a new generator, and what better time to test it out for real, than to test it out for real? We set out for a location that we had read about from other RV'ers near Badlands National Park, referred to as Nomad Overlook Dispersed Camping.
Pictures from web, not my own
Departing our sticks and bricks early Sunday morning, we headed out west, stopping to try our hand at casino boondocking. Grand Falls Casino in northwest Iowa had touted a new RV Park, but I was interested in just parking overnight without the hookups. Calling their office, I asked for and received permission to park the rig in the area reserved for trucks in the outer portion of their huge parking lot.
Even though they said it was OK to run the generator, provided it wasn't too loud or disruptive, I opted to just operate with my lone battery. I was able to extend my one slide out, have lights on, cooked on the propane stove, had hot water with the gas mode on, and then reverse the process with the slide out, and still had 1/2 battery power registering on the panel. I did have to sacrifice my morning Keurig coffee, that would have necessitated the generator, and without going into detail here, that just wasn't worth the effort to pull the big boy out of the back of the SUV. (Back Hatch doesn't clear the hitch control on the trailer without unhooking the trailer)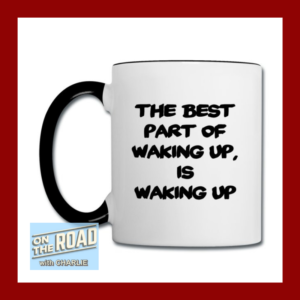 So, we needed to pack up, do our checklist, walk Bentley to do his business, and clean up duty, then headed towards Grand Falls, South Dakota in search of a fuel stop, both for the rig and my caffeine deprived body. That was accomplished just outside of the city. Then it was off to the west. I decided that instead of traveling in small chunks, staying overnight, we'd drive to Nomad Overlook in one trip, stay, then head back in small increments. So, that's what we did.
During our weeklong trip, we also checked out some of the 'free camping' suggestions that we saw at campendium.com, including Hieb Memorial Park in Marion, SD, (there were no spots available,) and Lions Park in Vermillion, SD, where we did stay for a night, enjoying free electric.
We were able to give the new generator a workout during the trip, making sure that we weren't violating any "quiet hours" in place at any of our stops. Returning to our home base in Fort Dodge, we reflected on the short trip, that was really the first time that 'boondocking' was undertaken for more than a quick rest, and the conclusion was that even in a small unit like ours with limited fresh water, and wastewater tanks, we would be able to function well for 4-5 days before needing to dump and restock. Bentley celebrated his 8th month among the living, and seemed ready to head back out the next day.