One of our sections on the website features 'Products To Consider' and while they all have applications for people who spend time exploring or camping with an RV, many of them come in handy at a traditional home.
Today I added some of those products including a link for you to learn more and/or to purchase. If you do buy, or purchase any other product available on Amazon, you won't pay any more, but I will receive a small commission for guiding you there.
We came across these emergency whistles recently. They are inexpensive and have quite a few advantages over the traditional metal ones we have carried with us.
They are super loud 'survival' whistles that are high-pitched powerful noise makers with dual sound chambers and can provide up to 120 decibels dB sound power, enough to be heard over a mile away. Cannot be overblown, works great as a signal whistle.
The pea-less design means no moving parts, nothing to obstruct sound, and nothing to jam, break, or freeze. Lightweight and fail-safe works well in any conditions with excellent airflow design. The comfortable mouth grip, won't stick to lips like metal whistles in cold environments.
The adjustable reflective lanyard and clip provide high visibility even in the dark with a slider button to adjust the length around the neck. The long lanyards can easily loop through backpacks, camp hike gear, life jackets, bikes and more. You can also clip the whistle to your belt or shoulder straps for quick and easy use in case of an emergency.
(Click on the picture to learn more or to order)
It seems like there is always someplace in your home or RV that doesn't provide enough light when you need it. These 'Button Lamp' adhesive LEDs might be the perfect solution for you. These lightweight, ultra-small, ultra-light, and ultra-bright LEDs  provide the power of a regular lamp and can be placed almost anywhere.
At just the size of a quarter, these mini peel-and-stick lights give out way more than the space they take up! Whether you're looking to brighten up a dark closet, make your under cabinet space more visible, ride your bike more safely, or leave fumbling around in your toolbox behind, these small but potent touch lights give you light when you need it most.
About the size of a quarter, it delivers a light output of 13 lumens. This means that these tiny, compact lamps will produce ultrabright lighting no matter where you install them.
When brightening up closets, crevices, and corners, these mini LED utility lights are rated for 17+ hours of battery life. Whether you install them in an interior or exterior location, the waterproof and shockproof design will deliver versatile and dependable lighting wherever you need it
(Click on the picture to learn more or to order)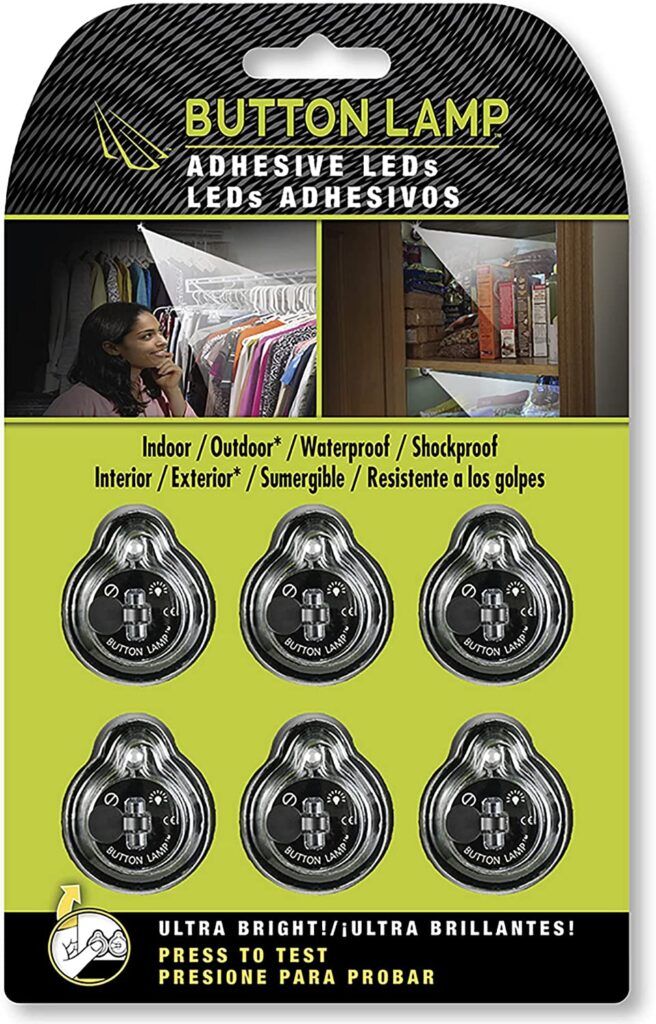 Rust is a problem. Something most of us don't think about until the damage is done. This product goes a long way to preventing a rust problem in the first place.
Boeshield T-9 was developed and licensed by global aerospace leader, the Boeing company, to fill a need for high-performance, long-term metal protection and lubrication. T-9's rust preventative spray uses a unique formulation of solvent carrier and paraffin wax coating engineered to penetrate crevices deeply, displace moisture, dissolve minor corrosion, and leave a clean, waxy coating with lasting durability-without using Teflon, Silicone, fluorocarbons, MEK, or acetone. Whether it be automotive, bicycle, industrial, lawn and garden, marine, RV, or tools, T-9 continues to be the best option for rust prevention and waterproof lubrication.
 Apply T-9 to any metal surface and let it dry. One simple step gives you a thin, penetrating film of durable, waterproof protection and lubrication that endures, month after month or mile after mile. T-9 dries to a clean, waxy, waterproof film that won't wash off in rain, puddles, or mud. You can rinse away sand, dust, and grime with water while leaving the lubricant intact. T-9 will not harm paint, plastic, rubber, fiberglass, or vinyl. It can be used on engines, wiring, and belts. T-9 is nonconductive and will not cause short circuits, so it's also safe to use on electronics. 
(Click the picture to learn more and/or to order)
When space is at a premium, or if you're only preparing meals for one or two people, this food processor by Cuisinart could be the perfect addition to your kitchen or galley. The Mini-Prep Plus 24 Ounce Processor is the perfect little helper for small food preparation, from chopping herbs to finely grinding hard cheese. Its versatility lies in the special Auto Reversing Smart Blade making the Mini-Prep versatile, and it is easier to process both soft and hard foods in the 24-ounce work bowl.
This 250-watt unit quickly chops and grinds and is easy to clean with a dishwasher-safe bowl and lid, with the motor base easily wipes clean with a damp cloth or sponge. It comes with a recipe book, a limited 18-month warranty, and is BPA-Free.
(Click the picture to learn more and/or to order)
We continue to look for more items that you might consider adding to your household, auto, or RV, and will update our section on the menu as we do.