2020 has become the year that many people would like to forget. The COVID-19 impact, rightly or wrongly, has crippled our ability to have reasoned discourse, has crippled our economy, has crippled common sense, has crippled our nation. The simple pleasures of life have been put on the back burner as a result of power hungry elected officials and unelected bureaucrats. Businesses have been shuttered, industries have been brought to their knees, and recreation has been vilified as not being 'safe'.
The notion that the outdoors somehow made people more at risk than those confined to closed quarters was absurd from the get go, yet many states and federal  dictates, not laws mind you, but dictates, closed down campgrounds, parks and even some public lands where boondockers enjoyed their 'isolation'. The irony as is usually the case was lost on the 'experts' in charge.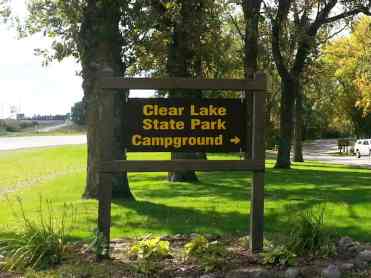 The reopening of America, which never should have been closed, still has some jurisdictions limiting or even prohibiting camping. Thankfully, not in all locations. We were able to enjoy a peaceful three day stay at Clear Lake State Park in Iowa, July 27-29th. This getaway was a little different, as Deborah had some projects that needed to be completed and couldn't go. So it was Dog Dad and Bentley having some quality time.
Bentley had just celebrated his 6th month milestone the week before, and while he is very smart, a quick learner, and eager to explore, he has a stubborn streak, and seems to really enjoy aggravating his pet humans. This made setting up 'Little Red' at Site #022 quite challenging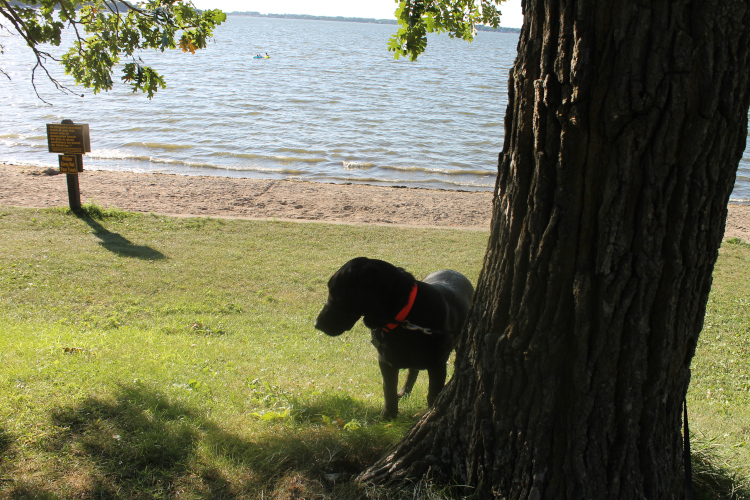 Once the unit was leveled, plugged in, and organized with Bentley supervising, it was time to take the short walk from the campground to Clear Lake (about 1/8 mile, if that). It became an obsession for Bentley. He could have spent the entire visit checking out fellow campers, beach goers, and all his animal buddies. The path to the lake was worn out during those 3 days.
The public beach hugged the shoreline and was well maintained by park officials, and for the most part beach goers adhered to the pack-in, pack-out policy. Pets were not allowed on the beach for obvious reasons, but there was a small section before the sand portion began that was frequented by our four legged friends. Bentley, however, wasn't keen on testing the waters, but rather honed his beach combing skills.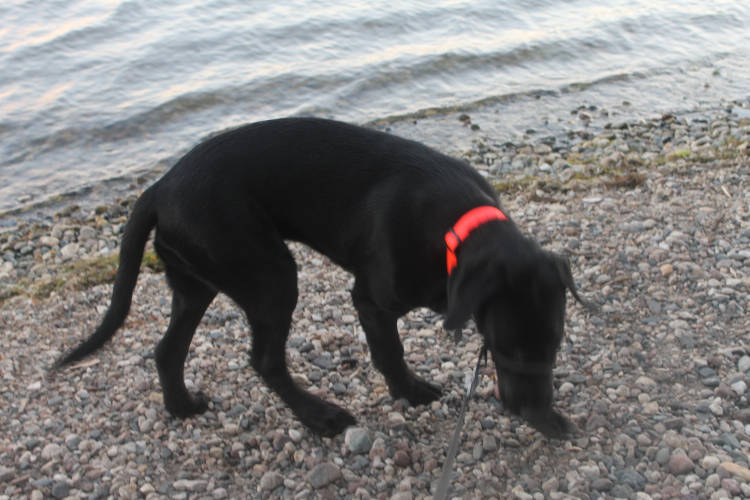 The campsites provided a little elbow room, but not much. There were quite a few pull thru sites, and during our stay we observed all sized rigs and tenters as well, all mixed in, with friendly campers as is usually the case when we're on the road. The couple next to us were from Nebraska, who were clearly not 'Husker' fans. Seems they had moved to Lincoln from Pennsylvania and were Penn Staters. That had to be an interesting dynamic on game day, that is if the fear mongers don't cancel football season too.
There weren't a lot of unique activities to partake in at the park, however, the town of Clear Lake was very close by with a beautiful downtown, with beach access, and the city does cater to their visitors. Our three day stay ended all too quickly, and Bentley gives it his highest 5 bark rating. Reservations are always recommended and the price is right. Our site had electric only, with water access nearby and dump stations as well. Our $52 total was well worth it. You can get more information about the state park and Clear Lake, Iowa but clinking the links below.