Perhaps it was just 'dumb luck', but in all my years of traveling with an RV, from a small travel trailer to a Class C to a Class A, and back to a small travel trailer, I had never encountered a problem with the unit's air conditioner. When we purchased our new 2017 Winnebago Micro Mini Travel Trailer, there were several excursions with no issues.
Then, I had to park it at our storage facility for about a month until I was able to hit the road again. We traveled from our home base in Iowa to Illinois before stopping for the night at a state park. It was very hot and muggy, and when we hooked up to power, everything worked, except… The Air Conditioner…
Without going into detail, it was a miserable night for us. We had fans that were not much help at all. We did manage to talk with our service department before night fell, and followed their instructions to see if it was 'pilot error', but nothing helped.
The trip was cut short, and we drove back to Iowa, and brought the unit in to be checked out. What they discovered and showed me once they took the cover off the A/C, was a massive bird's nest, with feathers and twigs filling up the entire cavern underneath. When we tried to start the A/C on the trip, the fan wouldn't move at all, and the motor got fried.
Thank goodness the warranty covered the problem, they had a replacement in stock, installed it, and one lesson was learned. Always check the inside of the unit before hitting the road.
One lesson I still haven't learned… Get an A/C Cover when it's time to store the trailer… Yes… I still find evidence of nesting each time, including a few days ago.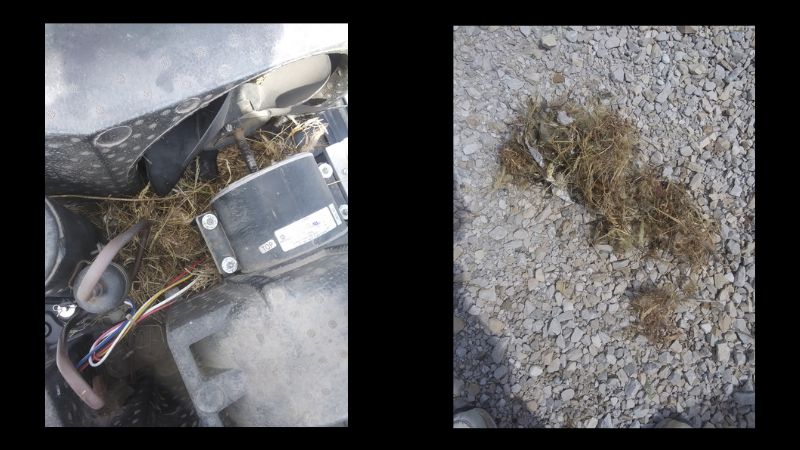 The air vents of the unit are quite small and I still shake my head wondering how they get in there, to begin with, much less get out.
The question now is… Will my inner 'Homer Simpson' stop saying the word, 'Doh!', and invest in a storage A/C cover?