You might come to the conclusion that we are thrilled with our purchase of our Winnebago Micro Minnie. In some respects, we are. Unfortunately, there is one major issue that surfaced about a year into our ownership of this brand new 2017 2106 FSB that has negatively "colored" our satisfaction with the purchase. Literally.
After shopping for a travel trailer for months and walking thru countless units, we came back to this setup each time as an ideal layout for our needs. Our initial usage proved that assessment to be accurate. We did encounter an issue with our air conditioner at the worst possible time, but it was not a design flaw or equipment failure, and was quickly rectified by the dealer at no cost to us. 
No, the problem is with the exterior paint job. We were assured by everyone at the dealership and Winnebago that the gel coat process was of the highest quality, that the bright cherry red color finish would endure for many years.  After our first season of trips, we stored the unit, and 6 months later, we went to the storage facility to hook up to get the unit ready for the next adventure, only to discover that the paint had faded along the rear of the unit, so much so, it looked like our travel trailer was 20 years old. 
Suffice it to say, we were shocked, and dismayed. A call to our dealership fell on deaf ears. A call to Winnebago fell on deaf ears, as they directed us to a policy that was never communicated to us regarding the washing and waxing every 3 months (not practical in the upper midwest winter season), and moving the unit regularly to prevent the sun from creating the massive fade that it did. 
From our conversation, it was apparent that Winnebago was fully aware of the issue, and yet, had no solution to offer, or felt the need to work with us to resolve our concerns.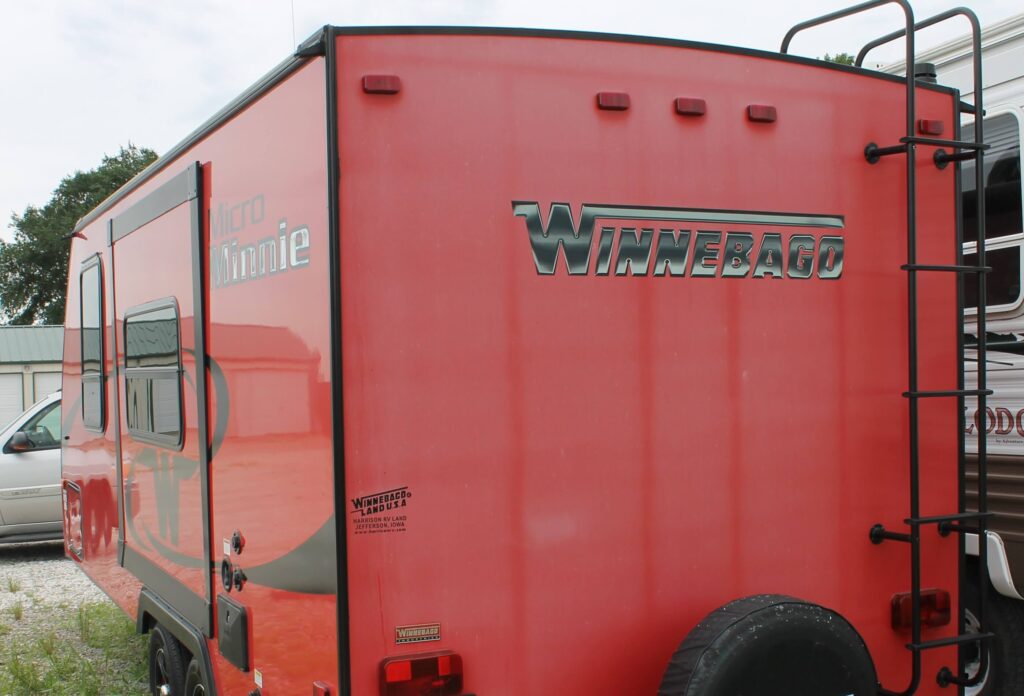 This photo was taken about a year ago, and has progressively faded further. We have evaluated the costs for getting the entire unit re-painted, and/or having a custom "wrap" project commissioned, the latter being the most  cost efficient at this time. No firm decision has been made, as the functionality of the unit isn't affected by the color fade.
I'm not sure if Winnebago is still making these units with the bright colors as an option, I did see where the dealer I purchased mine is not selling any new 2020 models in red, blue or yellow. I wonder if there's a reason ?